Just north of the stunning Myrtos beach lays the tiny and secluded village of Assos, which is one of the most beautiful and picturesque villages of the island. Built amphitheatrically around the homonymous peninsula, it is surrounded by luscious green scenery and verdant forests. Pine and cypress trees and the crystal clear blue waters of the Ionian Sea, create a unique combination and make Assos an ideal setting for relaxing vacations.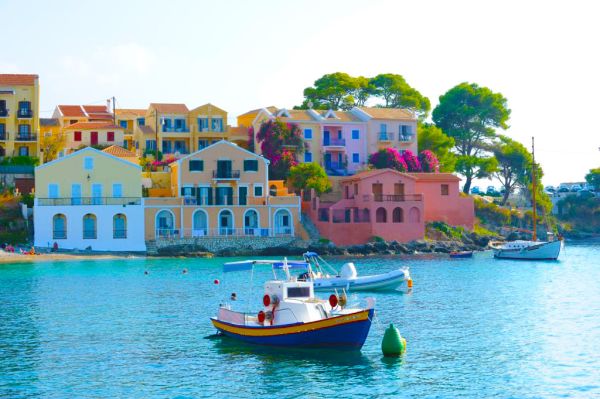 The village seems to be 'lost in time' and gives off an almost mystical atmosphere. The basic original traditional Ionian architecture is retained, while the modern feel is gentle and slight, enough though to pleasantly surprise all visitors. Pretty coloured houses nestling into the craggy hillside, dot the scenery with colours beyond the dominating blue and green.  In the small harbour you can see little fishing boats and some luxury yachts mooring and at the small village square you can find a few tavernas and restaurants. Assos beach is beautiful shady, pebbly beach offering clear waters and views across the bay.
In the late 15th century, a castle was built by the Venetian army, in order to protect the inhabitants from pirate raids. The stronghold was of great strategic importance and made Assos a capital city of the north side of the island. Nowadays, there are only remnants of the wall and other parts of Assos castle, as well as the church of San Marco.